Pennsylvania Court Structure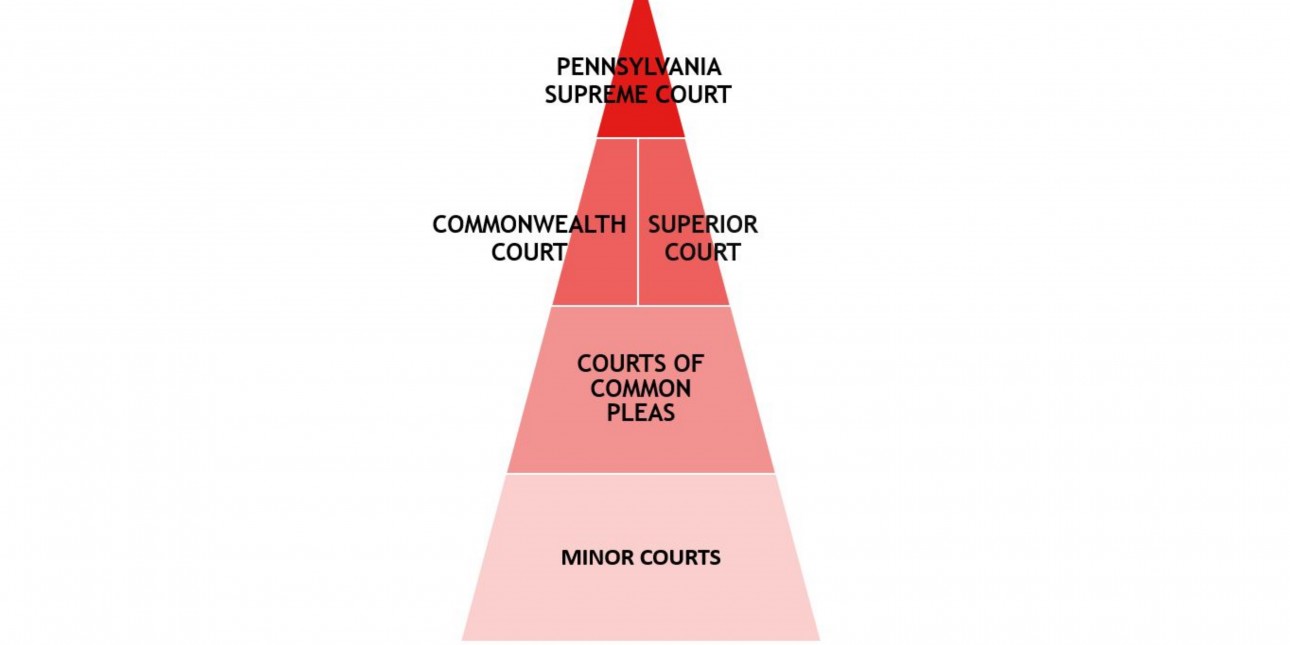 All of Pennsylvania's courts are part of the Unified Judicial System of Pennsylvania. There are three basic levels to the Pennsylvania Court System: minor courts, Courts of Common Pleas, and statewide intermediate appellate courts, which are called the Commonwealth Court and the Superior Court. The Supreme Court of Pennsylvania exercises authority over all other courts,
The Unified Judicial System's home page presents a simple diagram of the PA Court System, which can be found here.
More information on each level of the court system can be accessed below.
Supreme Court
The Supreme Court of Pennsylvania is the ultimate authority on matters brought before lower courts. The Court hears direct appeals from lower courts' decisions and answers requests for interventions in lower courts' proceedings.
Intermediate Appellate Courts
There are two statewide appellate courts in Pennsylvania: the Superior Court and the Commonwealth Court.
The Superior Court handles appeals in criminal and civil cases from the Courts of Common Pleas.
The Commonwealth Court handles original civil actions brought by and against the Commonwealth and appeals from state agency decisions.
Courts of Common Pleas
Courts of Common Pleas are trial courts which hear appeals in cases from the minor courts. Some cases before Courts of Common Pleas are heard by juries and some are heard by judges.
Minor Courts
Pennsylvania's minor courts are the Magisterial District Courts, the Philadelphia Municipal Court, and special problem-solving courts throughout the state.
Minor courts address whether serious criminal cases go to the Court of Common Pleas, preliminary hearings, or setting bail (except in murder or voluntary manslaughter cases) and decide minor cases, such as those involving housing or small claims.