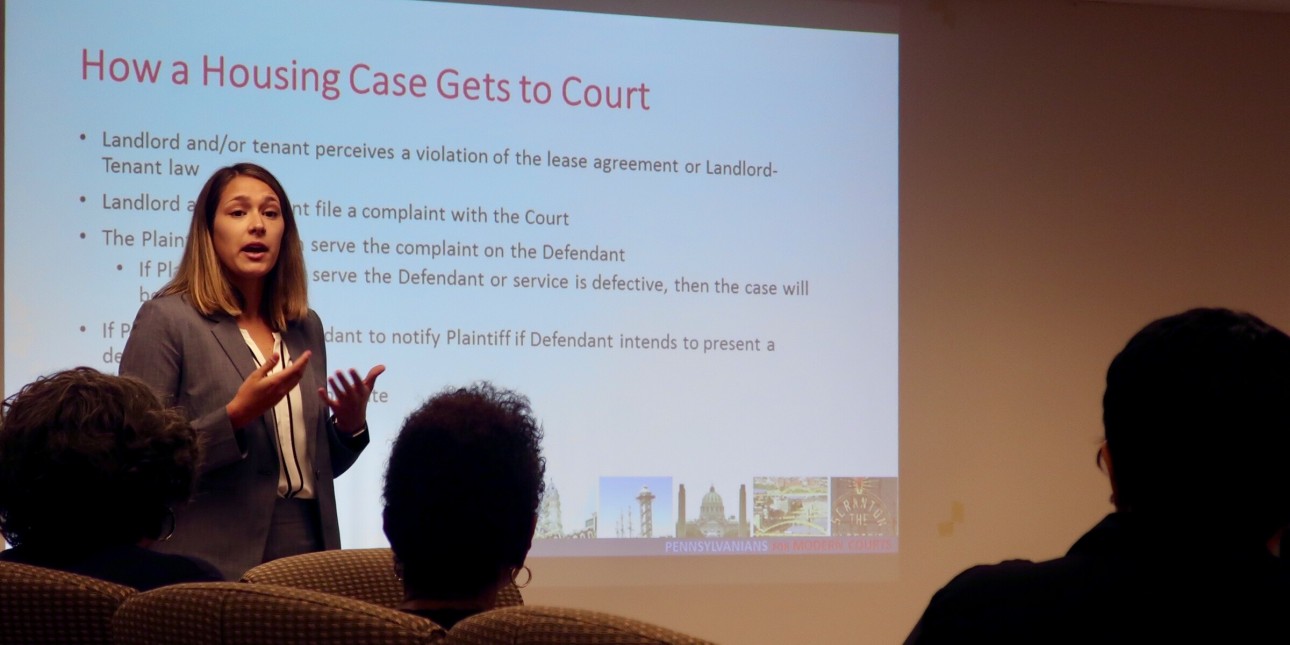 Open Positions
Community Legal Information Programming Coordinator
Part-time (24-30 hours/week)
Flexibility in working virtually and in choosing work schedule.
Reports to: CEO
Location: Pittsburgh, PA
Position Overview: Responsible for coordinating and participating in community workshop programming in the Pittsburgh area designed to educate community members about the court system and procedures, as well as landlord-tenant disputes, family court, criminal court, debtor's court and estate administration.
Job Requirements: A J.D. degree with litigation experience in Pennsylvania's state courts, with a focus on the Pittsburgh area.
Knowledge and Skills: Strong abilities to build relationships, collaborate, engage in outreach and work with individuals from diverse populations from the court system to the community. Public speaking experience a plus. Knowledge of the Pennsylvania court system important. Proficiency in the use of the Microsoft Office package, Zoom, as well as the internet preferred.
Job Responsibilities:
Collaborate with current staff in the coordination and execution of PMC in the Community programming including PMC Shares, PMC Listens and PMC Watches.
Develop partnerships with community organizations to provide workshops and programming.
Assist in expanding PMC in the Community's suite of workshops and programming.
Participate in staff meetings, board meetings, meetings with funders. Track and maintain data and statistics pertaining to community programming. Assist in grant writing and reporting of data and statistics to support grants.
Oversee our PMC Listens helpline by training law student volunteers to provide answers, referrals, and resources for people with questions regarding Pennsylvania court processes and procedures.
Establish and oversee PMC Watches bail watch program in the Pittsburgh area with PMC's staff and Americorp Vistas by training and overseeing volunteers.
Salary Range: $35,000 - $45,000. No retirement plan, healthcare, dental or other benefits available.
To Apply: Send resume, reference and cover letter to: dgross@pmconline.org