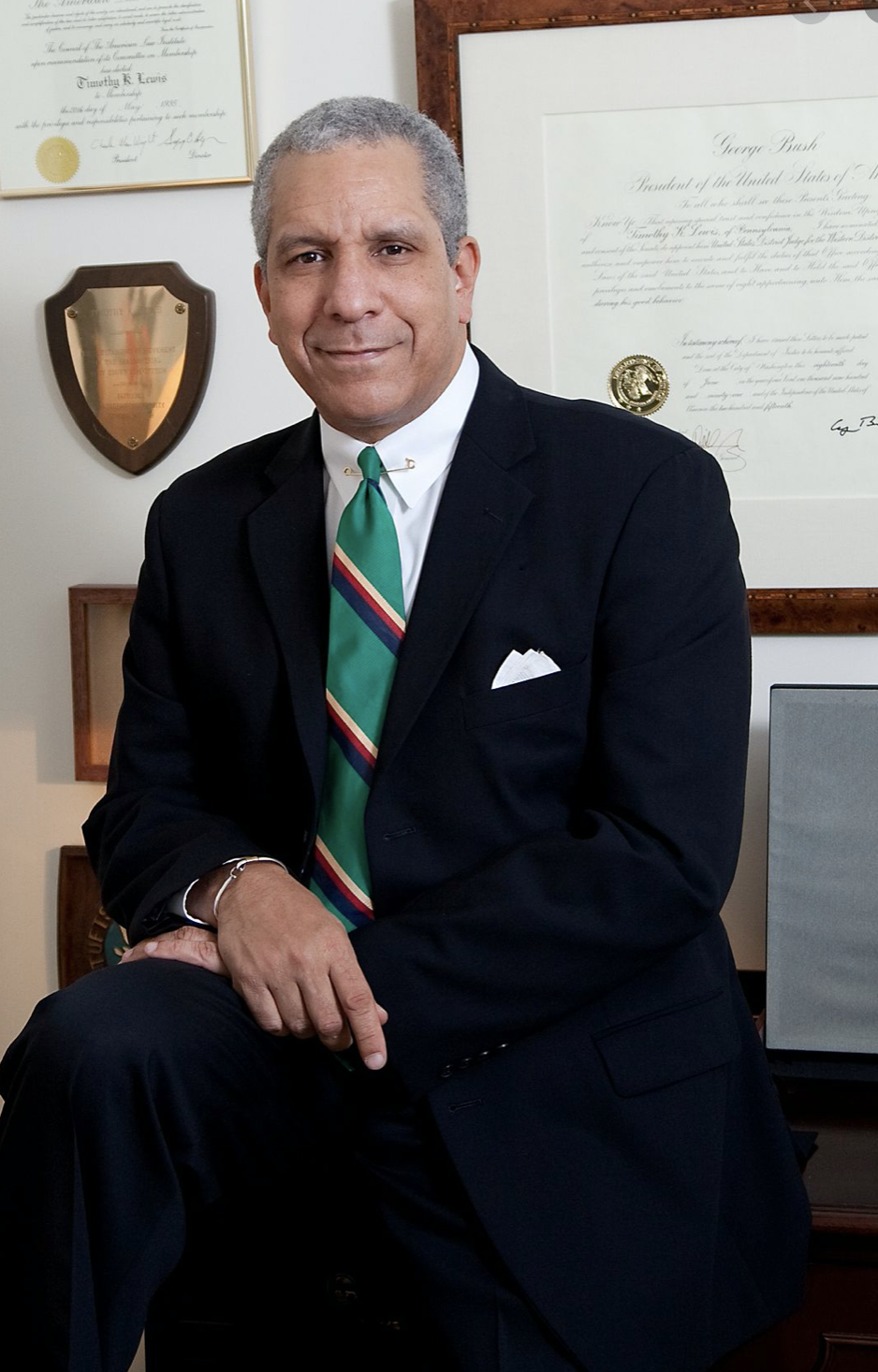 Judge Timothy K. Lewis served on the United States Court of Appeals for the Third Circuit. He is currently an attorney at Schnader, Harrison, Segal & Lewis and has authored articles on judicial independence and integrity. Judge Lewis is also a strong advocate for diversity within the legal community.
In 1991, President George H. W. Bush nominated Lewis to the United States District Court for the Western District of Pennsylvania, making him the youngest federal judge in the United States at that time. The following year, President Bush elevated Lewis to the United States Court of Appeals for the Third Circuit. Judge Lewis returned to private practice in 1999, joining Schnader, Harrison, Segal & Lewis, where is is a co-chair of the Appellate Practice and ADR Practice Groups.
Judge Lewis is highly regarded within the legal community and has been honored with several awards, including Duquesne University School of Law's Outstanding Achievement Award, the American Arbitration Association's Outstanding Director Award, and the International Institute for Conflict Prevention and Resolution's 2019 Award for Outstanding Contributions to Diversity in ADR. He was also named one of the "Diverse Attorneys of the Year" by The Legal Intelligencer in 2015. 
Beyond his legal practice, Judge Lewis serves on the Board of Advisors of the Georgetown Supreme Court Institute, the Board of Directors of the National Jazz Museum in Harlem, and the Pennsylvania Interbranch Commission for Gender, Racial, and Ethnic Fairness.
On October 25, 2018, Judge Lewis delivered the keynote address at PMC's Judicial Independence Benefit and 30th Anniversary celebration. A portion of that address is highlighted below. The entire address can be found here.
Stephen Hawking's greatest concern as he approached the end of his life was how divided we've become. But his final message was one of hope. Hope. "How do we shape the future?" he asked in the final chapter of his last book. "By remembering to look up at the stars, and not down at our feet," he answered.
I've thought about that a lot in the past 24 hours.
Over three years ago, I had the honor of delivering the Higginbotham Lecture to the Philadelphia Bar. We were, at that time, enduring national racial strife in the wake of shootings by the police and shootings of the police. I spoke about our national character and our struggle to find it and further it in difficult times.
A few things have happened since then. They have contributed to an urgent concern that we are witnessing the decline of the greatest democracy ever known. That might be a vivid reflection of truth. But I believe this moment is a gift. Because I believe that if we act now, this moment will be remembered as yet another symbol of our aspirations as a society, as a people - as "We, the People."