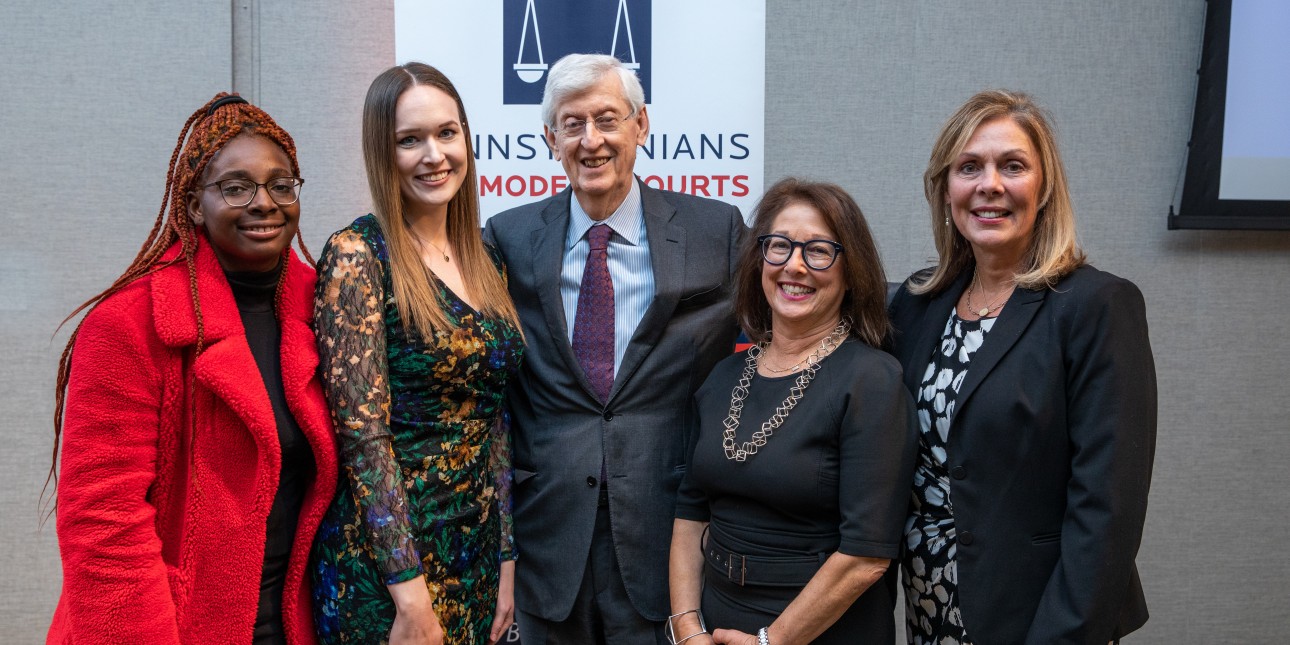 Photo description: Members of PMC's staff with Robert Heim at the 2022 Judicial Independence Benefit (Photo by Dave Tavani)
Deborah Gross | President & CEO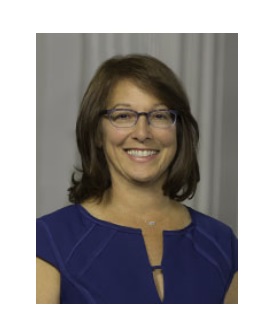 Debbie Gross comes to PMC from over 35 years of private legal practice in federal and state courts all over the country concentrating on complex commercial litigation.
She was Chancellor of the Philadelphia Bar Association in 2017, and focused her efforts during her Chancellor year on Philadelphia's extraordinary legal nonprofit community and the invaluable assistance they offer to Philadelphians. She spoke out on behalf of the Philadelphia Bar Association on the importance of judicial independence as the cornerstone of democracy. She and the Philadelphia Bar Association received a commendation proclamation from the Mayor as a result of the work they did to establish clinics to train lawyers to assist lawful permanent residents in becoming naturalized citizens and which resulted in over 300 individuals attending the clinics. 
Debbie also served as President of the Philadelphia Bar Foundation in 2013 and 2014, and as a Trustee of the Foundation from 2004-2020. She served on the Bar Foundation's Fundraising Committee, Grants Committee, Finance Committee and developed the Cy Pres Committee.
Debbie has served on the boards of many organizations such as Drexel's Kline School of Law, the Public Interest Law Center, Philly VIP, Temple Adath Israel of the Main Line, Women's Philanthropy of Jewish Federation and is active in many other organizations. 
Debbie received her J.D. from Boston University School of Law and her B.S. in Economics from the Wharton School of the University of Pennsylvania. She can be reached at dgross@pmconline.org.
Michelle Jordan | Director of External Affairs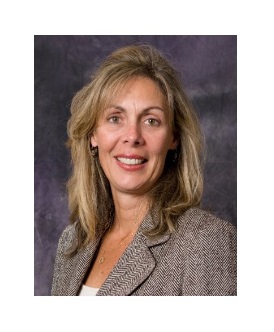 Michelle Jordan has spent more than 20 years in the corporate sector such as PepsiCo, Inc. and Aramark, developing key corporate philanthropic programs, employee networks, community volunteerism and marketing campaigns focused on health and wellness and education initiatives servicing over 300,000 employees in 22 countries. She is known for launching key global programs to increase the reputation of an enterprise  in addition to establishing and maintaining  strategic relationships with national community based organizations driving stakeholder engagement.
Most recently, Michelle served as Director of Campus Relations for The Art Institute of Philadelphia where she focused on strategically driving brand awareness and donor development through corporate community collaborations B2B, launching social media platforms and a website, ultimately increasing engagement and the institution's reputation within the community.
Michelle is active in many organizations such as City Year, Chamber of Commerce, Philadelphia Volunteer Council and has served on boards including the Organization of Chinese Americans, League of United Latin American Citizenship, the YWCA Camping Services New York City and past chair of the National Hispanic Corporate Council.
Michelle has her B.A. in Marketing from Mercy College, NY and is certified in Corporate Citizenship from Boston College, MA. She also is a past Executive Advisor for the Executive Leadership Development Program at SMU, Dallas.
Michelle currently resides in Ambler, PA. She can be reached at mjordan@pmconline.org.
Kathleen Moyer | Manager of Marketing & Administration
Kathleen Moyer came to PMC from academia, where she worked in La Salle University's Academic Support Programs and Services department. There, she created student-facing content with advice for students navigating college life, managed social media accounts, designed marketing materials, created surveys for first-year students and advisors, and oversaw other administrative tasks.
She has worked with both The Eye Institute of Salus University and the United Nations Association of Greater Philadelphia, coordinating and evaluating events and fundraisers. Kathleen has also served as a Blog Correspondent for Stop Street Harassment.
Kathleen has a B.A. in Communication, with a concentration in Public Relations, and an M.A. in Professional and Business Communication from La Salle University. She can be reached at moyer@pmconline.org.
Leah Simpson | Pittsburgh Community Legal Information Program Coordinator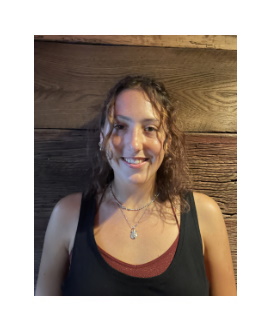 Leah Simpson recently graduated from the University of Pittsburgh with a writing degree concentrating in Non-Fiction and a Certificate in Public and Professional Writing. 
Leah is born and raised in Pittsburgh and is passionate about engaging with her community. Leah has extensive experience working with locals in Pittsburgh. She most recently worked closely with the neighborhood of Milvale to improve their community programming. Additionally, Leah has gotten involved with politics in the city of Pittsburgh and volunteered for a judicial campaign. Leah is excited to continue to learn and expand her knowledge. 
Leah is passionate about education, advocating for social justice, and involving herself in the arts. In her free time, Leah can be found reading or painting. She can be reached at lsimpson@pmconline.org. 
Anniyah Shelton | Community Program & Analyst Coordinator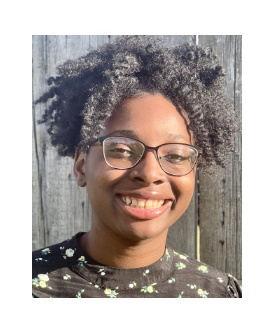 Anniyah Shelton was a first-generation student at Rutgers University Camden and a member of the Education Opportunity Fund program. She graduated from the School of Arts and Sciences having majored in Political Science with a minor in legal studies. Anniyah was in the honors program where she conducted research on the Black Lives Matter movement and wrote a thesis on the movement utilizing social movement theory. She was a vice president of the Political Science Society where she planned events and projects for the club. She was also an at- large representative for the Student Government Association and a liaison with students, faculty, and staff to raise and advocate for student concerns. Anniyah was a member of the Rutgers Camden Office of Community Standards Campus Appeal Committee where she reviewed disciplinary actions towards students and assisted with sanction decisions. She is a member of the Tri Alpha honor society for first-generation students. She completed the Pre-Legal Institute at Seton Hall University, an intensive five-week program where she took courses in legal writing, legal analysis, oral advocacy, property law, criminal law, health law, and contracts. Anniyah is passionate about law and music, and she wants to pursue a career as an Intellectual Property attorney. She can be reached at ashelton@pmconline.org.
Kejsi Ruka, Community Organizer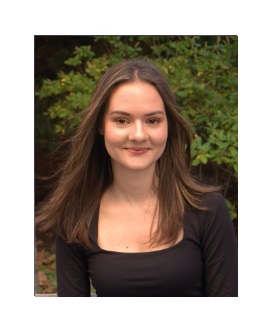 Kejsi is a junior at Drexel University, majoring in Global Studies with a concentration in Justice and Human Rights and minoring in Spanish and Political Science. Kejsi has previous experience working at Philly nonprofits such as HIAS PA, the Welcoming Center, and the Free Library of Philadelphia. At Drexel, Kejsi is a senator for the university's Undergraduate Student Government Association. Additionally, she is the former News Editor and the current Editor-in-Chief of Drexel's independent student newspaper, The Triangle. Kejsi also serves as a research assistant at Drexel, where she is working on a sociology project about gender and corruption. She is interested in immigration law, public policy, and journalism. Kejsi can be reached at kruka@pmconline.org.