Guiding Principles for Post-Pandemic Court Technology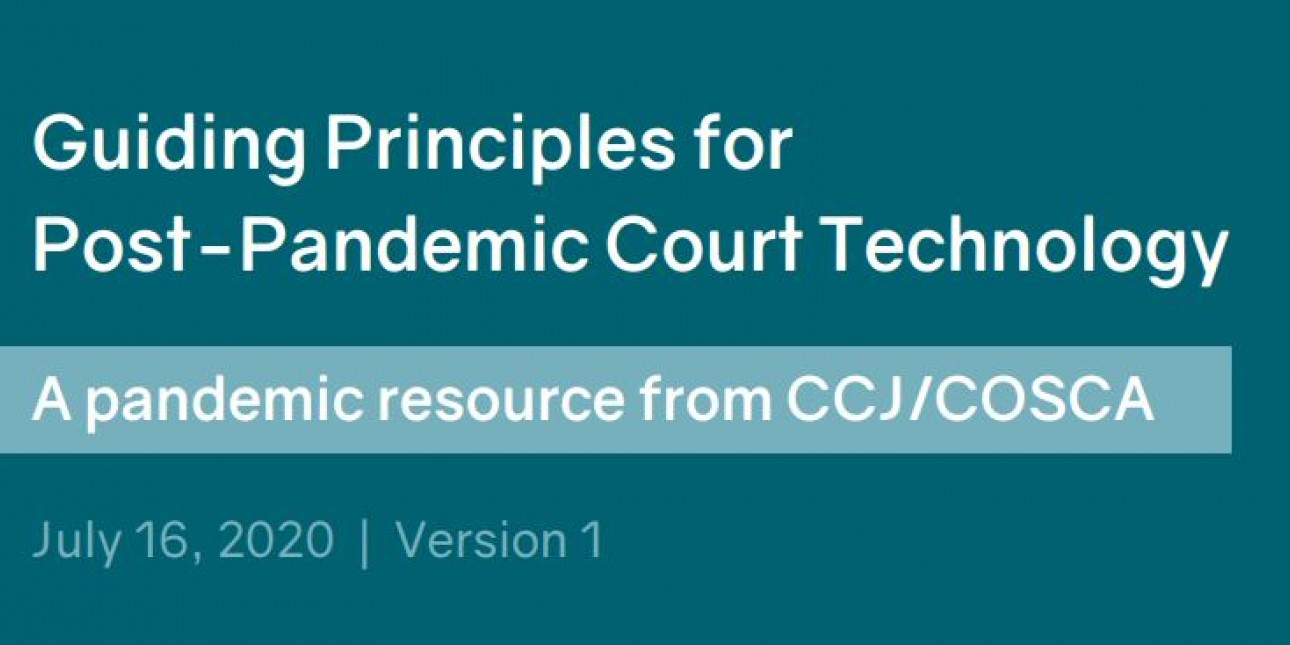 A pandemic resource from CCJ/COSCA
Each year more than 83 million cases are filed in the nation's courts. Prior to the COVID-19 pandemic, in almost all cases, tens of millions of court users had no choice about whether to visit a courthouse to resolve their case; they were required to appear in person. The pandemic forced state courts to figure out how to maintain access to justice while keeping court users, the public, and court employees safe. Courts improvised in-the-moment solutions built upon existing continuity plans and have shown remarkable creativity, resourcefulness, and willingness to embrace new technologies. Over the last 120 days, courts have shared ideas, innovations, and problem solving across jurisdictions and should be commended for their commitment to keeping the legal system running.
This national emergency led state courts to embrace online platforms like never before. To varying degrees before the pandemic, courts had been using online processes like electronic filing, online case management, video- and teleconference hearings, online payment platforms, text message notifications, and Online Dispute Resolution (ODR). These technologies acted as gateways to modernization that this pandemic had accelerated. As a direct result of the pandemic, courts have improved their business process and increased access for court users by deploying remote services to conduct essential functions and provide greater flexibility for court users and staff alike. While some of these solutions have been tested and proven for years, the disruptive pandemic expedited the courts' use of them and resistance to change.
With all of the advancements, courts should not just rest on the accomplishments of the past quarter but should view this moment as an extraordinary opportunity to deliver better justice. Courts have often felt insulated from the pressures of the private marketplace that has forced many businesses to adapt to new technology, but court users are demanding advancements and choosing to take their disputes elsewhere. To better serve court users, we must modify decades-old court procedures put in place before laptops, email, text messages, or even the Internet - many times even the mechanical typewriter. Courts now have a unique opportunity to leverage creative thinking, seize on an emergency-created receptivity to change, and adopt technology to create long-term and much-needed improvements.
The COVID-19 pandemic is not the disruption courts wanted, but it is the disruption that courts needed: to re-imagine and embrace new ways of operating; and to transform courts into a more accessible transparent, efficient, and user-friendly branch of government. Institutional inertia should not end this transformation once the pandemic passes. The process of developing new business processes and technologies to better meet the needs of court users and staff should continue, and courts must be willing to adjust as necessary in response to user input and experience. This moment in history marks a unique opportunity to create long-term and much-needed change four state courts...
#COVIDandtheCourts
National Center for State Courts
ncsc.org/pandemic