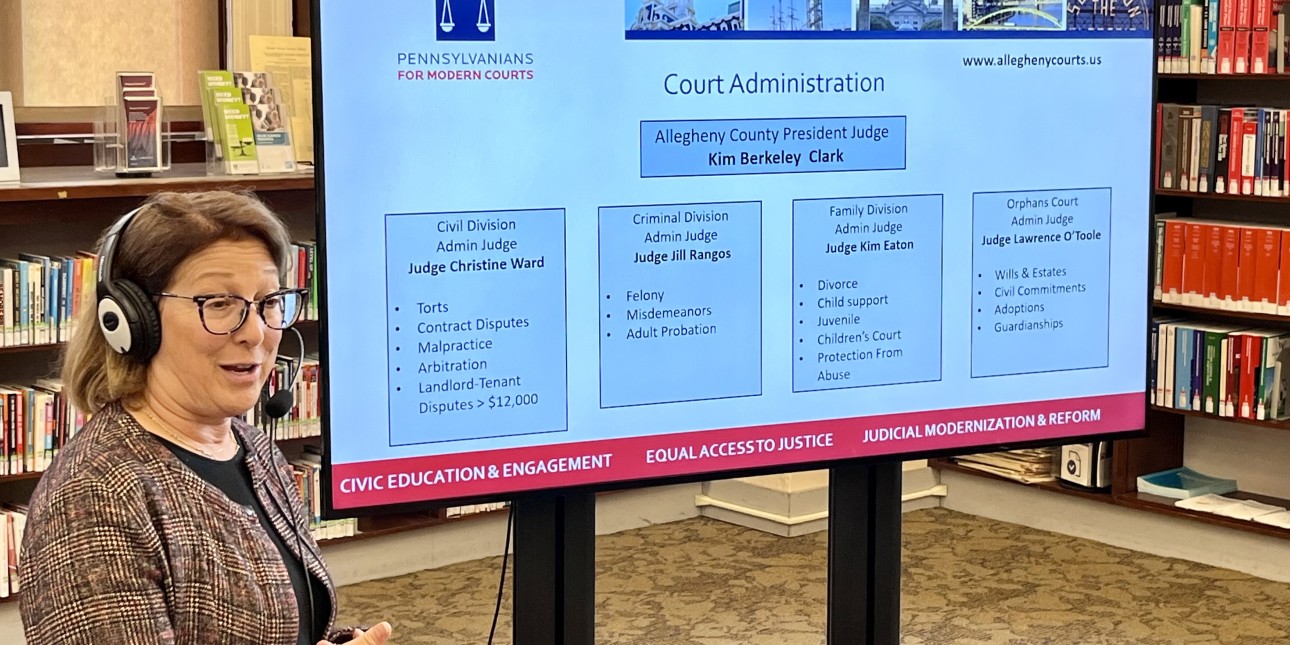 Click here to view a schedule of upcoming workshops.
PMC Shares™ sends ambassadors directly into neighborhoods to lead interactive workshops of the structure of state and federal court systems. These workshops provide court users with the tools necessary to successfully navigate our judicial system. We currently offer workshops on the following topics.
Clean Slate & Expungement of Records Workshop
Family Court Workshop
Housing Court / Landlord-Tenant Disputes Workshop
How to Administer an Estate Workshop
Judicial Elections & Evaluating Candidates Workshop
Paul Titus Criminal Court Workshop
Protection From Abuse Process Workshop
Rights in Civil Court Matters Workshop
Understanding & Navigating PA Courts Workshop
Some of our PMC Shares workshops can be found on our YouTube channel, here.
Philadelphia
Philadelphia has one of the worst poverty rates among large cities in the United States. Considering the correlation between poverty and crime, areas with high poverty levels are also often areas with a high volume of court users. Because most legal needs of the poor go unmet, we saw a real need for workshops on the court system in the Philadelphia area. PMC Shares began in Philadelphia, where we have already reached hundreds of primarily low-income individuals. Partnerships with the Free Library of Philadelphia and community organizations have helped us have an even greater impact in the Philadelphia area.
Pittsburgh
In 2018, PMC set out to develop PMC Shares workshops and other resources to address the housing crisis in Pittsburgh. Recent trends demonstrate that the city's median rent has risen significantly, while the number of affordable housing units has declined, resulting in an increase in evictions of low-income individuals. As an organization dedicated to bettering Pennsylvania's court system and mending fractured relationships between the public and the judiciary, we felt that it was our responsibility to develop programming to address the problem. In addition to our housing workshops, we have now expanded all of our workshop topics to Pittsburgh. We also published a highly demanded Handbook on Rules and Regulations for Landlord-Tenant Relations in the Fifth Judicial District - Allegheny County. 
Further Expansion
Our ultimate goal is to offer PMC Shares workshops across Pennsylvania. However, our ability to expand is dependent on the presence of PMC ambassadors across the Commonwealth. If you would like to support this important initiative, and you are an attorney or law student, please consider becoming a PMC ambassador.
Questions and Requests
If you would like to request a workshop at your recreation center, local library, school, place of worship, community organization, etc. or if you have other questions about the program, please contact our Director of External Affairs at mjordan@pmconline.org.