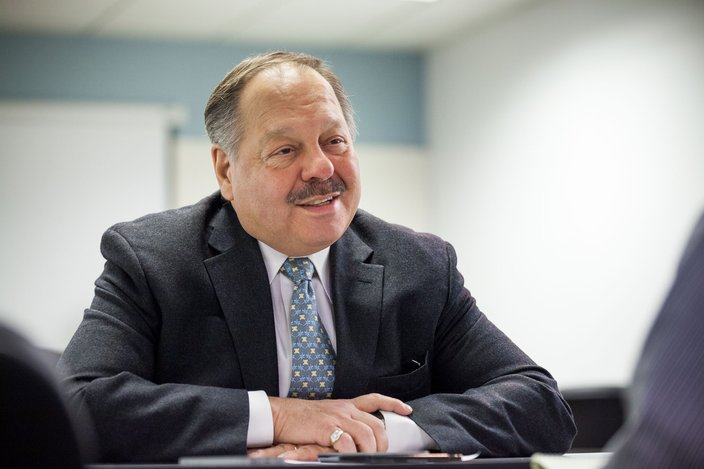 Nelson Díaz is an attorney at Dilwoth Paxson. He was the first Latino judge in Pennsylvania, serving on the Philadelphia County Court of Common Pleas.
Díaz's parents emigrated from Puerto Rico to New York before he was born. His family lived in public housing in West Harlem, New York. Díaz has shared that is upbringing was very difficult and that he was often left alone "in a building overstuffed with people living in squalor." As a teenager, he performed poorly in school, joined a gang, and looked up to local gang leaders as his heroes. 
He credits his mother and his faith for turning his life around. One day. his mother brought him to a small church, where many members of the congregation were former gang members who had completed the Teen Challenge, a program for youths who had been in gangs. After being warmly welcomed by the church, Díaz began to hide from his gang, study hard, go to the library regularly, and improve his grades. He realized that if he went to college and built a successful career for himself, he would be able to help his family leave Harlem, where many of his friends were dying in the streets. After high school, he went on to attend St. John's University, where he graduated second in his class with a bachelor's degree in accounting in 1969. He then went to law school in Philadelphia and became the first Puerto Rican to graduate from the Temple University Beasley School of Law. 
Since graduating from law school, Díaz has been a trailblazer in his career, becoming the first Latino to hold a number of positions. In 1981, he became the first Latino judge in Pennsylvania history, as well as the youngest Philadelphia judge, when he was elected to the Philadelphia County Court of Common Pleas at the age of 34. Díaz served on the Court until 1993, when President Bill Clinton appointed him General Counsel of the Department of Housing and Urban Development. He was the first Latino General Counsel appointed by a president. From 2001 to 2004, Díaz served as Philadelphia City Solicitor under Mayor John Street, before returning to the private sector. In 2015, he campaigned to become the first Latino Mayor of Philadelphia, but the Democratic nomination was ultimately won by now-Mayor Jim Kenney. 
Díaz has been a director of Exelon and PECO Energy Company since 2004. In 2016, he was appointed to the Puerto Rico Electric Power Authority by Puerto Rico Governor Alejandro García Padilla. Díaz is also currently an attorney in Dilworth Paxon's Philadelphia office.
Throughout his career, Díaz has been known as a champion for civil rights, court reform, fair housing, and bilingual education. He has also led a number of diversity initiatives, including one at his alma mater, Temple Law. Díaz has founded several law and business associations for Hispanics, including the Pennsylvania Hispanic Bar Association. He also serves on the boards of the Pan American Association and Temple University.
Díaz has shared his life story in an autobiography titled No Soy de Aquí ni de Allá - Not from Here, Not from There, which was published in 2018. The book is described as "a mantra for Puerto Ricans who feel like foreigners wherever they are and who seek a place for themselves." and a story that "offers powerful lessons on finding a place in the world by creating spaces where everyone is welcome." While speaking with Al Día about the book, Díaz offered advice to Latinos who are experiencing discrimination, "Despite the discrimination that one suffers...I think you just hold your head up high and contribute how you can contribute. Don't let those things be stumbling blocks along your journey."