A. Leon Higginbotham, Jr.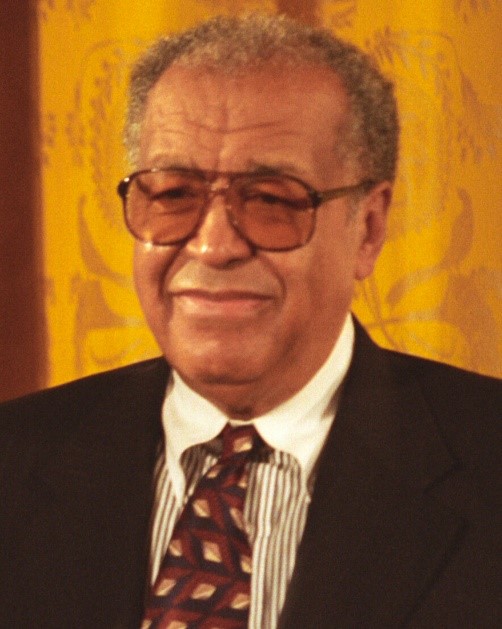 Aloyisus Leon Higginbotham, Jr. was the first African American United States District Judge for the Eastern District of Pennsylvania. He later went on to serve as Chief Judge of the United States Court of Appeals for the Third Circuit. Higginbotham was also a civil rights pioneer.
Higginbotham enrolled at Purdue University at the age of 16, where he began to study engineering. However, after experiencing racial discrimination and segregated housing at Purdue, he decided to pursue a career in law. He felt that a legal career would put him in a better position to fight discrimination. 
He transferred to Antioch College and later attended Yale Law School. After graduating from Yale Law School, he moved to Philadelphia, but could not find employment at any of the major law firms in the city because of his race. He became a law clerk for Judge Curtis Bok, and was later hired as an assistant district attorney by Richard Dilworth.
In 1954 Higginbotham became a member of the first African American law firm in Philadelphia, Norris, Schmidt, Green, Harris, and Higginbotham. In 1960, he became the President of the Philadelphia chapter of the NAACP. Around this time, he also served as special Deputy State Attorney General, a Commissioner on the Pennsylvania Human Rights Commission, and a special hearing officer for conscientious objects for the United States Department of Justice.
President John F. Kennedy appointed Higginbotham as a commissioner on the Federal Trade Commission. At the recommendation of Attorney General Robert Kennedy, President Kennedy nominated Higginbotham to be a judge on the United States District Court for the Eastern District of Pennsylvania in 1963. His nomination was opposed and delayed by Senator James Eastland, a segregationist from Mississippi. After the assassination of President Kennedy, the nomination lapsed. However, Higginbotham was appointed to the court by President Lyndon B. Johnson the following year. President Johnson also appointed him to the newly established Commission on the Causes and Prevention of Violence. In 1977, Higginbotham was elevated to the United States Court of Appeals for the Third Circuit, following his nomination by President Jimmy Carter.
In 1974, twelve black plaintiffs accused the International Union of Operating Engineers of racial discrimination in the case Comm. Of Pa. v. Local 542, Int'l Union of Operating Engineers, assigned to Judge Higginbotham. The defendants filed a motion for recusal because they felt that Judge Higginbotham could not be impartial, due to his race. Higginbotham did not recuse himself because he believed that a judge should not have to recuse his or herself from a case simply because he or she belongs to a certain minority group. This opinion set a precedent that was followed by other judges in the future. 
In 1993, Judge Higginbotham retired from the bench and joined the firm Paul, Weiss, Rifkind, Wharton & Garrison, Following his judicial career, he also taught at the University of Pennsylvania, the University of Pennsylvania School of Law, and Harvard University's John F. Kennedy School of Government. 
Throughout his entire life, Higginbotham was involved in civil rights activism. He published numerous articles and books on race in American politics and law. However, his activism was not limited to the United States. Following the end of apartheid in South Africa, Higginbotham met with Nelson Mandela and established the South Africa Free Election Fund, which raised millions of dollars in support of free elections. After the first inter-racial election in South Africa, Higginbotham helped draft the country's new constitution. 
Higginbotham passed away on December 14, 1998. He received many honors for his judicial and civil rights work, both before and after his death. In 1995, he received the Presidential Medal of Freedom from President Bill Clinton. The following year, he received the Springarn Medal –– the highest honor of the NAACP. He also received the first Spirit of Raoul Wallenberg Humanitarian Award from the American Swedish Historical museum for his human rights work in both the United States and South Africa. 
Each year, a leader within the public interest legal community delivers the Judge A. Leon Higginbotham, Jr. lecture at the Philadelphia Bar Association's June quarterly meeting. This year, the Higginbotham Lecture will be delivered by Judge Higginbotham's wife, Dr. Evelyn Brooks Higginbotham at a virtual event commemorating the passage of the 19th Amendment. The event, "Women's Pursuit of the Vote: A Picture in Black and White", will be held on Friday, August 7, 2020, at 12:00 PM. Dr. Higginbotham is a professor of African American Studies, African American Religion, Afro-American Studies, and History at Harvard University.