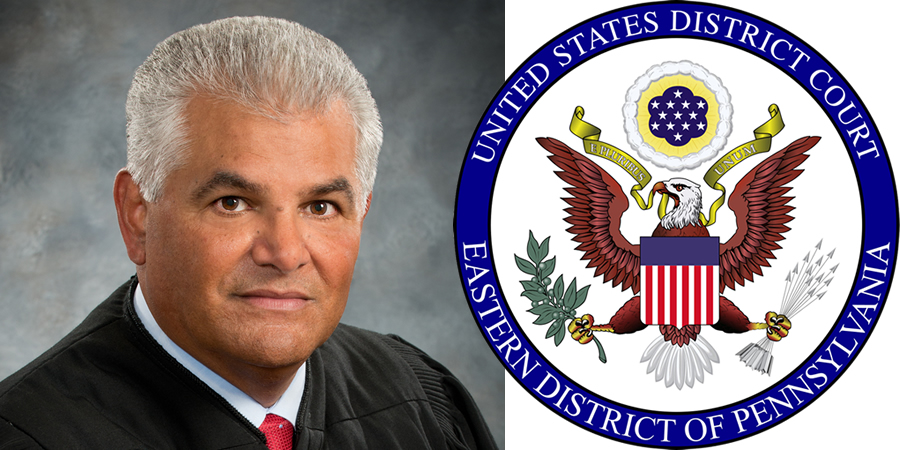 Juan R. Sánchez is the Chief Judge of the United States District Court in the Eastern District of Pennsylvania.
Sánchez was born in Puerto Rico and moved to The Bronx when he was twelve years old. He earned his Bachelor's degree from the City University of New York City College and his law degree from the University of Pennsylvania School of Law. Following law school, Sánchez received a Reginald Heber Smith Community Lawyer Fellowship and worked at Legal Aid of Chester County. He went on to work as a Chester County Public Defender for fourteen years. After leaving the Public Defender's Office in 1987, he continued his private practice until 1997.
Sánchez's judicial career began in 1997 when he was elected to the Chester County Court of Common Peas. President George W. Bush nominated Sánchez to a seat on the District Court in the Eastern District of Pennsylvania in 2003, and Sánchez was confirmed in 2004 in an unopposed vote.
In 2017, Sánchez issued a landmark ruling in which he ordered Google to comply with warrants issued pursuant to the Stored Communications Act (SCA) and provide the FBI with data on servers outside of the United States. That data included emails from the subjects of two criminal investigations. Google argued that the SCA would not apply to information on servers in other countries. However, Sánchez stated that the location of the service provider and where the data will be disclosed is key in determining the reach of the SCA, agreeing with a Magistrate Judge's prior decision. 
Sánchez became Chief Judge in 2018 and is the first Hispanic Chief Judge in the Court's history. Following Sánchez's appointment as Chief Judge, his predecessor and current PMC Board member, Judge Lawrence Stengel, stated that "Judge Juan Sánchez is a thoroughly good man who has served with distinction as a judge on this Court for over 14 years. He is hard working, reliable, honest, and true. Judge Sánchez built a reputation for dedication to justice and excellence in his work while on the Chester County Court of Common Pleas and that has continued." Other judges shared this sentiment and remarked on Sánchez's commitment to equal justice and fairness. 
In the fall of 2018, Sánchez published a Temple Law Review article on the importance of jury diversity and his plan to make increased jury diversity a priority in the Eastern District of Pennsylvania. In the article, Sánchez pointed to instances in which the diversity of a jury (or lack thereof) has had an impact on the result of a case. Sánchez believes that the diversity of a jury should reflect the population it represents - a position  that is becoming particularly crucial with demographics changing in many areas. He also shared that diverse juries are beneficial to the legal system because more diverse juries tend to deliberate longer, ask more questions, and examine cases more thoroughly. 
The Eastern District of Pennsylvania created a Jury Diversity Subcommittee in order to identify ways to increase jury diversity in the District. The Subcommittee proposed four recommendations that were ultimately adopted, including adding more names to the list of potential jurors, conducting more frequent change of address checks, sending a second juror qualification questionnaire to a zip code where a previous questionnaire has not been returned, and holding educational programs on the importance of juror diversity for community organizations, religious institutions, law firms, media outlets, and local courts. Since implementing these changes, judges in the Eastern District have reported a greater number of people of color on juries. Sánchez's article on the jury diversity plan can be found here.