PA Appellate Court Candidates' Forum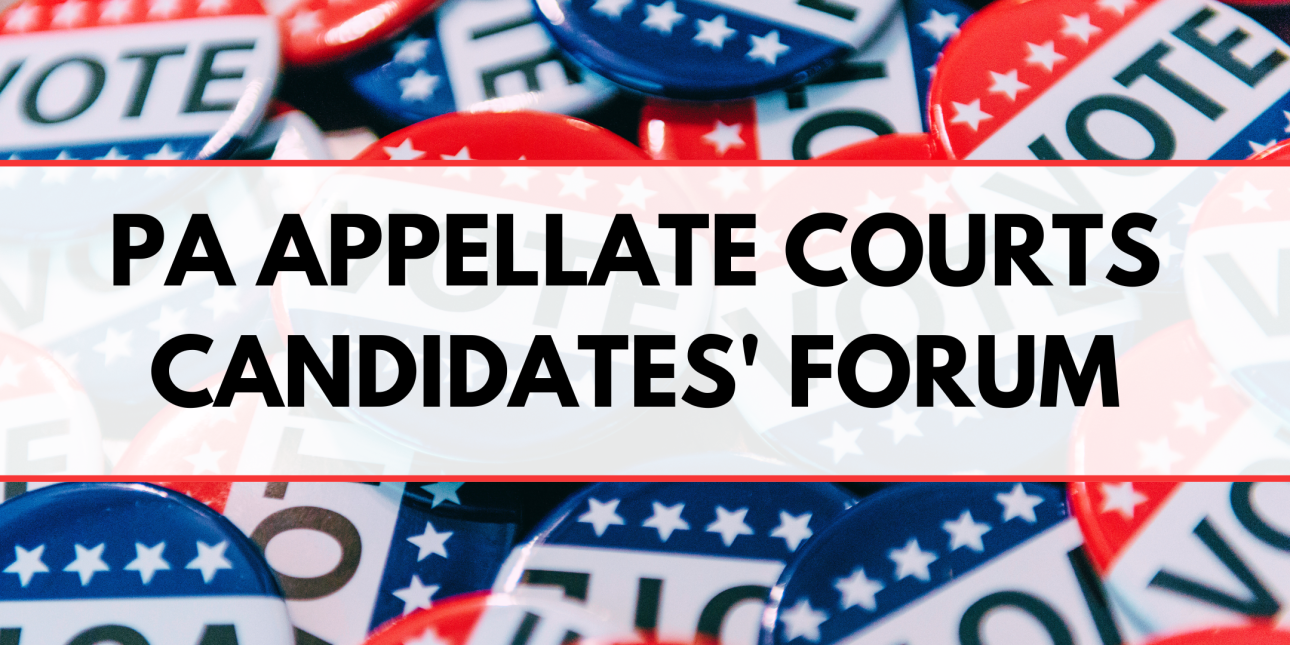 On October 24, 2023, from 6:30 PM to 8:00 PM, Pennsylvanians for Modern Courts will host a virtual forum with candidates for Pennsylvania's appellate courts, including the Supreme Court, Superior Court, and Commonwealth Court. This event will provide viewers with an opportunity to get to know the candidates through a moderated forum.
Moderator
Brigid Landy Khuri | Of Counsel, McNees Wallace & Nurick LLC
Participating Candidates
Supreme Court
Judge Carolyn Carluccio
Judge Daniel McCaffery
Superior Court
Maria Battista
Jill Beck
Judge Timika Lane
Commonwealth Court
Megan Martin
Judge Matt Wolf
Registration & Submitting Questions for the Candidates
Click here to register for the forum.
If you have a question that you would like the candidates to answer, please submit it to staff@pmconline.org. Due to time constraints, we will not be able to ask every question.
There is no cost to register for this event. However, as a nonprofit organization, we depend on donations in order to hold our programs. If you appreciate accessible, educational programs, like our candidates' forums, please consider making a donation. No amount is too little.
Sponsor
Sponsor: This forum is a part of Every Voice, Every Vote, a collaborative project managed by The Lenfest Institute for Journalism. Lead support is provided by the William Penn Foundation with additional funding from The Lenfest Institute, Peter and Judy Leone, the John S. and James L. Knight Foundation, Harriet and Larry Weiss, and the Wyncote Foundation, among others. To learn more about the project and view a full list of supporters, visit www.everyvoice-everyvote.org. Editorial content is created independently of the project's donors.
Partners
Pennsylvanians for Modern Courts is proud to work with the below organizations to hold this candidates' forum. We thank them for their dedication to making judicial election information more accessible to voters.
Allegheny County Bar Association
Berks County Bar Association
Carnegie Library of Pittsburgh
Committee of Seventy
Dauphin County Bar Assocation
Erie County Bar Association
Free Library of Philadelphia
G-Town Radio
League of Women Voters of Pennsylvania
League of Women Voters of Greater Pittsburgh
Monroe County Bar Association
Montgomery Bar Association
Philadelphia Bar Association
United Voices for Philadelphia