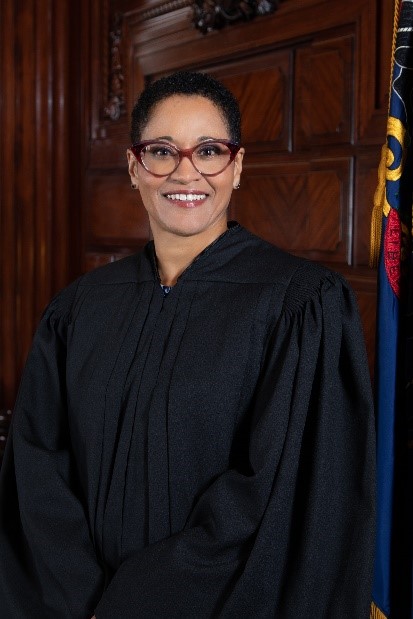 Judge Carolyn Nichols serves on the Pennsylvania Superior Court. Nichols is currently the only black woman to hold one of the 31 appellate court seats in Pennsylvania. She is a strong proponent of equal access to justice and has recently spoke out against racial and political polarization.
Nichols has served the public for decades. Prior to beginning her judicial career, she served as Legislative Assistant to former Philadelphia Councilwoman Augusta Clarke; Assistant City Solicitor, and Deputy Secretary for External Affairs for the Mayor's Office; and City Deputy Finance Director - a position in which she managed the Minority Business Enterprise Council. She was elected to the Philadelphia Court of Common Pleas in 2011. In 2017, she was elected to a ten year term on the Pennsylvania Superior Court. 
Judge Nichols has received numerous awards and honors throughout her career. In 2019, she was the recipient of Rutgers Law School's Dr. Martin Luther King, Jr. Champion of Social Justice and Equality Award. She received the NBA/Judicial Council/Clifford Scott Green Chapter's Pinnacle Award in 2018 for her service on the Philadelphia Court of Common Pleas. In 2018, she also became the inaugural recipient of the Judge Carolyn H. Nichols Drum Major for Justice Award, created by State Representative Margo Davidson. She was honored by Philadelphia City Council in 2014 with the Guardian of Economic Inclusion Award. In addition to the awards she has received for her public service, Judge Nichols has also been honored for her community involvement. In 2008 and 2007, the Philadelphia Tribune named her as one of Philadelphia's Most Influential African Americans. 
Judge Nichols supports activities within the Philadelphia Southwest Police Division, which aim to build and strengthen relationships between communities and law enforcement. Blades, Fades and Engage brings community members and law enforcement officers together at neighborhood barber shops to participate in town hall style discussions. Turn a New Corner connects returning citizens with potential employers. Nichols also co-founded the Southwest Division Youth Advisory Committee, which organizes positive activities for youth. 
An advocate for racial justice, Judge Nichols spoke against the "new Jim Crow" – circumstances that trap people of color in poverty – while addressing the Lancaster NAACP in late 2019. "Today we continue fighting battles we thought we won in the epic civil rights struggles of the past century. Clearly, making equal justice a reality and holding America to the promise, the noble promise of the Constitution, remains unfinished business," Nichols stated.
The fact that Judge Nichols is the only black woman out of 38 appellate court judges draws attention to the lack of diversity in Pennsylvania's appellate courts. Pennsylvania is also one of 23 states to have an all-white Supreme Court. Pennsylvanians for Modern Courts supports judicial reforms that would eliminate this racial homogeneity and ensure that judicial candidates of color have an opportunity to serve on our appellate courts. 
Nichols follows in the footsteps of her father, Edward K. Nichols, Jr., in many ways. After serving in the Tuskegee Airmen 332nd Fighter Group, Edward Nichols went to law school, became a well-respected lawyer in Philadelphia, and later served as Assistant District Attorney. He was also very active in his community. After practicing law for years, he decided to become an ordained minister, and eventually became pastor of Greater St. Matthew Independence Church in West Philadelphia. Edward Nichols served on the board of the Crime Prevention Association and the National Council on Alcoholism, and he provided pro bono assistance to other pastors and nonprofits in need of legal advice. He passed away in 2007 and is remembered as someone who was always willing to help those in his community.