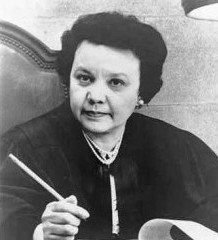 Juanita Kidd Stout became the first Black woman to serve as a judge in Pennsylvania, when she was appointed to the Philadelphia Municipal Court in 1959. She later served on the Court of Common Pleas and the Supreme Court of Pennsylvania. Justice Stout was the first Black woman to serve on any state Supreme Court, when she was appointed in 1988.
Justice Stout was known for being a tough but fair judge. Her passion and genuine love of the law inspired many women to pursue careers in the field of law. She received countless honors throughout her career. In 1980, she was described as a "tireless and relentless public servant...a champion of justice" while receiving the Henry G. Bennet Distinguished Service Award. In 2012, Philadelphia's Criminal Justice Center was named in her honor.
A champion for integrity and ethics, Justice Stout famously said, "A person educated in mind and not morals is a menace to society."