Celebrating Pennsylvania's Black Judges
In recognition of the countless contributions of Pennsylvania's Black judges to our judicial system, PMC will spotlight them throughout the coming weeks. By showcasing these individuals, we strive to celebrate their accomplishments, their dedication to justice and how they strengthened our judiciary. By sharing these stories of excellence, we hope to honor their legacies and highlight the need to increase racial diversity on the bench. PMC believes that a system which actively advocates for racial diversity will lead to greater access to justice for all Pennsylvanians. 
Chief Justice Robert N.C. Nix, Jr.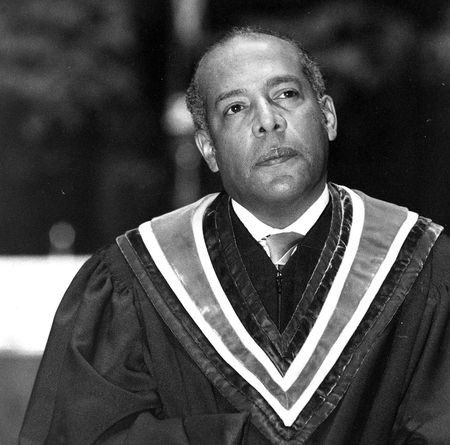 Robert N.C. Nix, Jr. served on the Pennsylvania Supreme Court from 1972 to 1996. He became Chief Justice of the Court in 1984 and was the first African American Chief Justice of any state Supreme Court.
Nix was the son of Robert N.C. Nix, Sr., Pennsylvania's first African American Congressman. Robert N.C. Nix, Jr. graduated from Villanova University in 1950 and went on to attend law school at the University of Pennsylvania School of Law. After graduating from law school, Nix served in the Army for two years. Following his service in the Army, he became Deputy Attorney General - a position he held for two years before joining his father's law firm, Nix, Rhodes and Nix.
Throughout his legal career, Nix was known for his civil rights activism. In a prominent case, he represented a neighborhood group called United Neighbors, which petitioned the City of Philadelphia for improvements in West Philadelphia. Nix and United Neighbors won the case. In 1963, Nix became a member of the Philadelphia Mayor's advisory committee on civil rights, where he advocated for equality in the city's hiring practices.
Nix's judicial career began in 1967, when he was elected to the Philadelphia Court of Common Pleas. In 1971, Governor Milton Shapp appointed Nix as an associate justice of the Pennsylvania Supreme Court. He was elected in 1972, and became Chief Justice of the Pennsylvania Supreme Court in 1984. In addition to being the first African American Chief Justice of any state Supreme Court, Nix was also the first African American elected to any statewide office in Pennsylvania. He later served as the President of the National Conference of Chief Justices. 
Nix retired in 1996 and passed away seven years later, after suffering from Alzheimer's disease. He is remembered as a strong proponent of racial equality, juror diversity, individual rights and equal access to justice. 
Previously Highlighted Judges